Start time
Friday 8 June, 14:45
End time
Friday 8 June, 15:30
The Place
Wellington
This tool brings a fresh breeze to the ELT world and invites all creative, enthusiastic and entrepreneurially-thinking teachers and trainers to join the Learn&Lead stream of innovations that have been developed in the Erasmus+ projects since 2010.
Design Sprint is a team tool of strategic innovations which offers innovative and creative solutions of challenging problems and their testing within just a few days. It focuses on the product and service development that are of high value to customers.
By "learning by doing" we practically learn how to propose, prototype, verify products, functions and services such as Uber, Slack, Blue Bottle Coffee and others.
About Jana Chynoradská
Jana Chynoradská is the HARMONY Academy founder, Principal Manager and a Trainer. She also currently holds the position of President of the Slovak Association of Language Schools.
Jana graduated from Comenius University, Faculty of Education, with a diploma in English language and literature, and a doctorate in English methodology. She is characterised by her incessant thirst for knowledge and a belief that within every person the potential for the accomplishment of great things lies dormant. She believes that true beauty and wisdom can be obtained not only within arriving at a destination, but through the adventurous journey that enables you to reach your desired destination. As a result, she initiates many local and international projects aimed at developing cross-cultural and international networking within ELT, education, communication and leadership. Jana's interests include reading, travelling and meeting new people.  As a formerly competitive handball player, she now through yoga seeks an inner calm, and a balanced and harmonious lifestyle.
About Marcel Rypak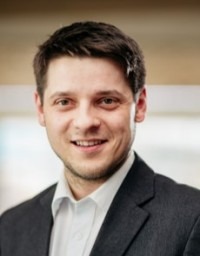 Marcel Rypak, He works as a project coordinator in the field of business development and entrepreneurship education in consulting company IPA Slovakia, and Entrepreneurial university which is powered by IPA. Entrepreneurial university represents a new business development platform and leads the projects in companies and between entrepreneurs.
He graduated from the European Business and Finance program at Brno University of Technology and Nottingham Business School with a focus on entrepreneurship and strategic development. His diploma thesis focuses on support and development of small and medium enterprises and strategic analysis of selected companies.
He is constantly looking for new challenges to improve and try to get a positive attitude towards things.
Marcel relaxes with good music, traveling, in the mountains, on the water, and among active and inspiring people.